If you're trying to decide when to sell your house, there may not be a better time than this winter. Selling this season means you can take advantage of today's strong sellers' market when you make a move.
---
Win When You Sell
Right now, conditions are very favorable for current homeowners looking for a change. If you sell now, here's what you can expect:
Your House Will Stand Out – While recent data shows there are more sellers getting ready to list their homes this winter, there are still more buyers in the market than there are homes for sale. If you sell your house now before more houses are listed, it will get more attention from serious buyers who are eager to find a home.
Your House Will Likely Get Multiple Offers – When supply is low and demand is high, buyers have to compete with each other for a limited number of homes. The latest Realtors Confidence Index from the National Association of Realtors (NAR) shows sellers are getting an average of 3.6 offers in today's market.
Your House Should Sell Quickly – According to the same report from NAR, homes are selling in an average of just 18 days. As a seller, that's great news for you if you're looking for a quick process.
Win When You Move
In addition to these great perks, you'll also win big on your next move if you sell now. CoreLogic reports homeowners gained an average of $51,500 in equity over the past year. This wealth boost is the result of buyer competition driving home prices up. You can leverage that equity to fuel a move, before mortgage rates and home prices climb higher. To get a feel for how rates are projected to rise, see the chart below.
The longer you wait to make your move, the more it will cost you down the road. As mortgage rates rise, even modestly, it will impact your monthly payment when you purchase your next home. Waiting just a few months to make that change could mean a long-term financial impact.
The good news is today's rates are still hovering in a historically low range. According to Doug Duncan, Senior VP and Chief Economist at Fannie Mae:
"Right now, we forecast mortgage rates to average 3.3 percent in 2022, which, though slightly higher than 2020 and 2021, by historical standards remains extremely low . . ."
Selling before rates climb higher means you can make your move and lock in a low rate on the mortgage for your next home. This helps you get more home for your money and keeps your payments down too.
Bottom Line
As a homeowner, you have a great opportunity to get the best of both worlds this season. You can truly win when you sell and when you buy. If you're thinking about making a move, let's connect so you have the information you need to get the process started.
The last 18 months changed what many buyers are looking for in a home. Recently, the American Institute of Architects released their AIA Home Design Trends Survey results for Q3 2021. The survey reveals the following:
70% of respondents want more outdoor living space
69% of respondents want a home office (48% wanted multiple offices)
46% of respondents want a multi-function room/flexible space
42% of respondents want an au pair/in-law suite
39% of respondents want an exercise room/yoga space
If you're a homeowner who wants to add any of the above, you have two options: renovate your current house or buy a home that already has the spaces you desire. The decision you make could be determined by factors like:
A possible desire to relocate
The difference in the cost of a renovation versus a purchase
Finding an existing home or designing a new home that has exactly what you want (versus trying to restructure the layout of your current house)
In either case, you'll need access to capital: the funds for the renovation or the down payment your next home would require. The great news is that the money you need probably already exists in your current home in the form of equity.
Home Equity Is Skyrocketing
The record-setting increases in home prices over the last two years dramatically improved homeowners' equity. The graph below uses data from CoreLogic to show the average home equity gain in the first quarter of the last nine years: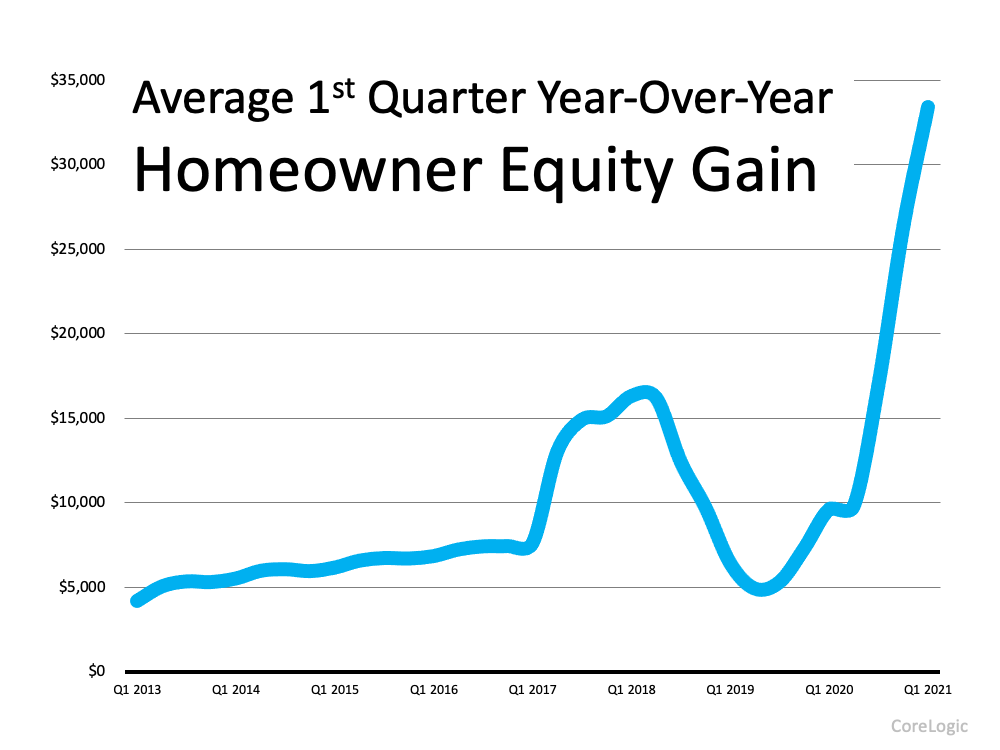 Odeta Kushi, Deputy Chief Economist at First American, quantifies the amount of equity homeowners gained recently:
"Remember U.S. households own nearly $35 trillion in owner-occupied real estate, just over $11 trillion in debt, and the remaining ~$24 trillion in equity. In inflation adjusted terms, homeowners in Q2 had an average of $280,000 in equity- a historic high."
As a homeowner, the money you need to purchase the perfect home or renovate your current house may be right at your fingertips. However, waiting to make your decision may increase the cost of tapping that equity.
If you decide to renovate, you'll need to refinance (or take out an equity loan) to access the equity. If you decide to move instead and use your equity as a down payment, you'll still need to mortgage the remaining difference between the down payment and the cost of your next home.
Mortgage rates are forecast to increase over the next year. Waiting to leverage your equity will probably mean you'll pay more to do so. According to the latest data from the Federal Housing Finance Agency (FHFA), almost 57% of current mortgage holders have a mortgage rate of 4% or below. If you're one of those homeowners, you can keep your mortgage rate under 4% by doing it now. If you're one of the 43% of homeowners with a mortgage rate over 4%, you may be able to do a cash-out refinance or buy a more expensive home without significantly increasing your monthly payment.
First Step: Determine the Amount of Equity in Your Home
If you're ready to either redesign your current house or find an existing or newly constructed home that has everything you want, the first thing you need to do is determine how much equity you have in your current home. To do that, you'll need two things:
The current mortgage balance on your home
The current value of your home
You can probably find the mortgage balance on your monthly mortgage statement. To find the current market value of your house, you can pay several hundreds of dollars for an appraisal, or you can contact a local real estate professional who will be able to present to you, at no charge, a professional equity assessment report.
Bottom Line
If the past 18 months have refocused your thoughts on what you want from your house, now may be the time to either renovate or make a move to the perfect home.
The information contained, and the opinions expressed, in this article are not intended to be construed as investment advice. Center Real Estate, DBA does not guarantee or warrant the accuracy or completeness of the information or opinions contained herein. Nothing herein should be construed as investment advice. You should always conduct your own research and due diligence and obtain professional advice before making any investment decision. Center Real Estate, DBA will not be liable for any loss or damage caused by your reliance on the information or opinions contained herein.